Print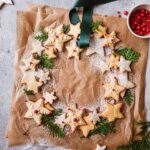 VANILLA COOKIE WREATH
---
DOUGH
250 g all purpose flour
1/2 tsp baking powder
50 g caster sugar
100 g butter, unsalted, room temperature
1 egg, medium
1 tbsp Taylor & College Vanilla Paste
1 pinch of salt
DECORATION
250 g powdered sugar
2 egg whites, medium
1 tsp Taylor & Colledge Vanilla Extract
Sprinkles (optional)
---
Instructions
Step 1: To start making our vanilla cookie wreath beat the butter and sugar in the bowl of a standing mixer and until light and fluffy. Add vanilla paste and egg and beat until combined. Add flour, baking powder and salt and beat until combined.
Step 2: Wrap tightly with plastic wrap. Chill in the refrigerator for at least 2 hours, or overnight.
Step 3: Line two baking sheets with parchment paper, set aside.
Step 4: Preheat oven to 180 °C.
Step 5: Place the cookie dough on a floured surface and roll to ½ – 1 cm.
Step 6: Cut out the dough with cookie cutters and place them 2 cm apart on the prepared cookie sheets. Repeat until all the dough is used.
Step 7: Bake 9-10 minutes or until cookies are golden brown around the edges.
Step 8: In the meantime, beat the powdered sugar and the egg whites with an electric mixer until combined. Increase speed until it forms stiff peaks.
Step 9: Once cookies are completely cooled, decorate cookies with icing and sprinkles to finish your delicious vanilla cookie wreath.
Prep Time:

15 min.

Cooling Time:

120 min.

Cook Time:

10 min.