Print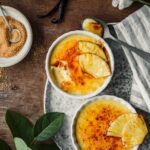 Coconut Crème-Brûlée with Flambeed Pinapple
---
CRÈME-BRÛLÉE
200 ml coconut milk, unsweetened

250 g whipping cream

120 g sugar

8 egg yolks

2 tsp Taylor & Colledge Vanilla-Paste

FLAMBEED PINAPPLE
4 pineapple slices, skin removed

1 tsp Taylor & Colledge Vanilla-Paste

1 tbsp butter

2 tbsp honey

4 tbsp brown rum

6 tbsp brown sugar
---
Instructions
Step 1: For your coconut crème-brûlée with flambeed pinapple, preheat oven to 250ºF (120°C).
Step 2: Combine coconut milk, whipping cream, sugar and vanilla paste in a saucepan over medium heat. Whisk until the milk begins to simmer, then remove from heat and let cool for 10 minutes.
Step 3: In a large mixing bowl, whisk the egg yolks with the sugar until thick and creamy. Slowly add the coconut milk mixture to the mixing bowl, keep whisking.
Step 4: Pour the mixture into 6 oven proof ramekins, place them on a baking tray and carefully pour hot water onto the baking tray until it reaches halfway up the side of the ramekins.
Step 5: Bake for 40 to 45 minutes until the outside of the Crème is just set and the middle is slightly wobbly.
Step 6: Remove from the oven and allow the ramekins to cool. Cover and transfer to the refrigerator. Chill for at least 4 hours.
Step 7: Cut the pineapple in thin wedges (you will need 12 wedges). Heat the butter, honey and 1 teaspoon of Vanilla Paste in a small pan. When hot, place the pineapple slices in the pan. Cook for 2 – 3 minutes. Add the rum and carefully ignite with a long match or torch to flambé.
Step 8: When ready to serve, sprinkle brown sugar over the surface of each crème and caramelize with a kitchen torch. Top with the flambeed pineapple and serve immediately.
Prep Time:

20 min.

Resting & Cooling Time:

250 min.

Cook Time:

40 min.